Alumni spotlight: Bobby Kennedy
Bobby Kennedy graduated from the Environmental Humanities Program in 2015. He is a co-founder of Salty and Stupid Cycling and is the Operations Manager for the Des Moines Street Collective community bike shop. He has recently relocated to Iowa with his family. I sent Bobby a list of questions about his experience in EH and how that relates to bicycling; his written responses appear below.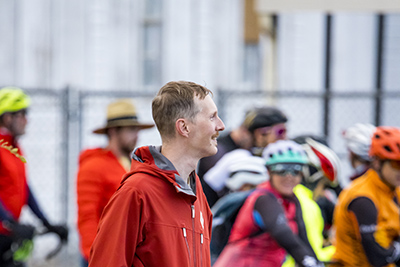 How did you choose EH at the U?
I grew up in Iowa, where the environment is, in one way or another, always in your face. You can't avoid agriculture here, whether or not you actually have any connection to pulling plants out of the ground or meat off of pigs.
I really started to think hard about environmental issues in undergrad at the University of Iowa when I read Peter Singer's Animal Liberation and ecocritical/posthuman work by Carolyn Merchant and Cary Wolfe. Environmentalism was already a big part of my life: I'd been a vegetarian since reading Singer; I commuted by bicycle everywhere; I wrote about water pollution from pig farms for a local magazine; the first question my future wife asked me was whether I recycled. I realized that I really loved reading through the environment and when I decided that I wanted to keep going in school, I heard from an advisor about the program and applied. Best decision I ever made, other than telling Tasha that, yes, I did recycle.
What's it like to leave Utah?
A bit like amputation. The landscape became integral to my self-identity. Utah and the West in general are such a huge part of how I think about myself. I've studied the literature and environmental history of the American West for years and spent countless hours wandering around in the West Desert. My community and company are in Utah; it feels like a big piece of me has been removed.
That said, Utah can be a problematic place for anyone sensitive to the environment. I love the land deeply, but many of the same geologic forces that enthralled me day after week after month after year also gave me serious anxiety. I had no idea how much I feared earthquakes until the 2020 Magna earthquake.
And the Great Salt Lake itself represents – after climate change and drought – the great environmental challenge of our time. If the lake dries up, no corner of the hemisphere will remain untouched. I fully expect to feel the presence of its absence here in Iowa in the form of arsenic and dust. As EH taught me, we're all downwinders. So in another way, I kinda feel like I'm leaving the fight, though I still intend to cajole and send money on behalf of the lake and the Great Basin ecosystem.
The West Desert is one of the most beautiful places on earth. It's my favorite in the world with no viable contenders.
That said, Iowa is a fantastic place, and Des Moines has been a pleasant surprise. They have a pretty extensive network of rails-to-trails bike paths that actually go from town to town and connect various parts of the DSM metropolitan area. I'm the current Operations Manager for the Des Moines Street Collective community bike shop and helping folks with their active transportation needs while being surrounded by amazing people and machines has also helped soften the blow a lot. Hard to argue with giving bikes to kids on a daily basis.
EH attracts and fosters bike people e.g. Brooke Larsen, Community Engagement Coordinator who rode her bike through the CO Plateau listening to climate stories, and Kailey Kornhauser, Co-Founder of All Bodies on Bikes. Brooke and Kailey rode their bikes through AK listening to climate stories, too. What is EH about Salty and Stupid Cycling? What makes your rides/races unique?
Salty & Stupid Cycling actually started because of EH. During my first year, Greg Smoak took a few of us on an auto tour of the Pony Express from Wendover back to the Wasatch Front and I fell hard in love with the place. Clifton Flat south of Gold Hill is one of the most incredible places I've ever seen. We rode with Mark Fiege and Jared Farmer, both accomplished environmental historians, and they gave us an environmental tour of the area. We visited Dugway and stopped at all the Pony Express stations. I just thought it was the most amazing landscape that I'd ever seen.
In 2015, Alex Ertaud, one of the members of my cohort, and I rode the Pony Express on our bikes with a friend and after that, I became obsessed with the idea of riding the whole thing in one sitting, the ride that would become the Stupid Pony. A few years later, I asked some people on Facebook if they wanted to divvy up the cost of support for a ride, I met my partners, Becky Benson and John Hernandez, and Salty & Stupid was born.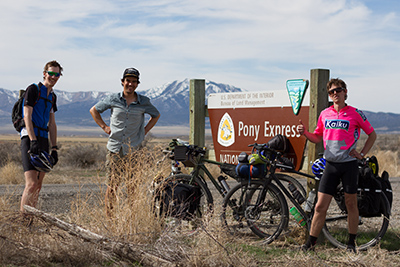 The EH stuff is arguably what makes our rides so unique. Our first commitment is always to showing people that the West Desert is more interesting, more fun, and more vibrant than they would expect. A lot of our marketing, even down to the name "Stupid Pony," pokes fun at the mythologizing of the least interesting parts of its history. If I could rename The Wild Horse the Feral Cow and not lose riders, I would. A lot of bike and event marketing and reporting piggybacks on the Western myths about cowboys and horses and all that. We like to point out how strange those myths are and how they ignore or minimize the really weird stuff and the things that matter, like the nuclear history of the West Desert. Some of them give out comically huge belt buckles and such – if you win the Stupid Pony, you will win one of my ragged old t-shirts. And it will be ragged, I promise.
But mostly, it's how we celebrate the West Desert. A lot of the rides in Utah foreground the traditionally wildernessish landforms like the mountains and the redrock desert, the Mighty Five stuff. We're about the Basin and Range, the massive, geologically hyperactive, but not-normally-discussed area that encompasses nearly a third of the state. It doesn't have a lot of vertical gain, but it has incredible geologic features and you can go a LONG ways without seeing another person. It's our outback, the remote and rugged place where the sum of distance and water is all that matters. It's amazing.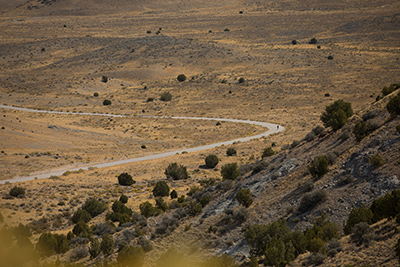 In terms of the extraordinary number of cycling-inspired EH grads, I'd argue it's because cycling is A) really cool and fun, B) one of the most environmentally-oriented ways to move through the environment. Hiking is cool but is pretty beholden to automobility and, more importantly, doesn't replace cars in cities. Walking is definitely important to urban transportation but hiking isn't. You can move across incredible swaths of land pretty quickly and with a pretty small impact. You're exposed to the elements and your own limitations and strengths similarly to hiking and running. It's both community-building and amenable to anyone looking for extreme solitude. The same machine can race and commute to work. Love it.
Anything else you'd like to add or wish I had asked?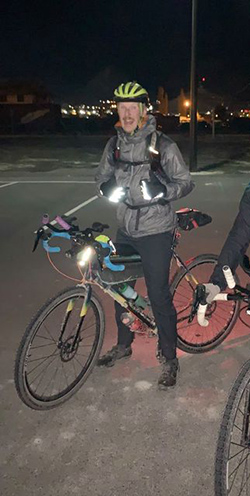 First, I want to make a pitch for studying the West Desert. The environmental history of the area is just bananas. The West Desert really exemplifies the importance of cultural perceptions to the facts on the ground because its status as wasteland has really affected how people use it, as nuclear and chemical testing ground, as potential nuclear waste receptical, as the preferred site for landfills servicing the Wasatch Front, as the site of MagCorps (one-time highest-volume polluter in the US) and a century's worth of abandoned tailings piles.
The West Desert also takes up a surprising amount of cultural space considering its nearly nonexistent historical white population. Mark Twain, the incorrigible racist, talks a lot about it in Roughing It. Wallace Stegner writes about it quite a lot in his works set in Utah. Terry Tempest Williams of course spends a lot of time thinking about it in Refuge. It features as the main setting of Chip Ward's nonfiction masterpiece, Canaries on the Rim. The Donner Party receives a lot of attention, of course. Some incredible percentage of all car commercials are filmed there. In ways both laudatory and degrading, the West Desert features prominently in how people perceive and act toward the West more generally.
And in particular, the really incredible feat of human survival that is Goshute culture needs more love but has been receiving more attention recently.
There's a lot to think about out there.
Second, I had the honor of selling Kailey the Diverge she rode across Alaska, packing it to ship there, and putting it back together when she and Brooke came back. She thrashed that thing. Lots of miles and mud. Kailey, if you're reading this, please come do the Pony. Pretty please?