---
Rachel Mason Dentinger, Environmental Humanities Research Professor (2021-2022)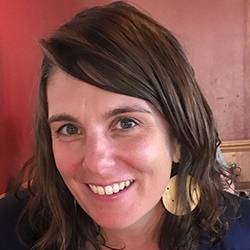 Natural Insecticides & Evolutionary Warfare in the History of Coevolutionary Studies (1940s-2000s)
Dr. Mason Dentinger's book project represents the first historical study of coevolutionary theory and the field of coevolutionary studies.
Emerging in 1964, just as Rachel Carson condemned synthetic insecticides, the field of coevolutionary studies recast "chemical warfare" as an evolved interaction between plants and insects. This historical study contends that insecticide research was constitutive of coevolutionary studies' discourse of "natural insecticides," which generated a techno-biological vision of plants and animals as agents, armed with increasingly sophisticated chemical weapons.
Tune into a recording of Dr. Mason Dentinger's talk on her research, "The Most Coevolutionary Animal of them All: Turning 'esoteric' biological theory into lessons for humanity's survival in the 1970s and 1980s" held November 22, 2022 at CTIHB Jewel Box.
---
Previous recipients:
Katharina Gerstenberger, WLC (2019-2021)
Disturbed Places and Troubled Times: Narrating Bikini Atoll, Chernobyl, Fukushima
Carlos Gray Santana, PHIL (2017-19)
Benjamin Cohen, HIST (2015-17)
Danielle Endres, COMM inaugural term (2006-2007)
Research Professorship Benefits:
One course-release per year
Annual research funding of $1,500
Engagement with the intellectual life of the EH community
A public presentation and opportunity to celebrate your research at the end of your term
The EH Research Professor is supported by generous funding from the Kendeda Fund. All faculty members from the College of Humanities who wish to pursue environmental research from humanities perspectives are encouraged to apply. Our next application cycle will be during Fall 2024.