Katharina Gerstenberger, Environmental Humanities Research Professor (2019-2021)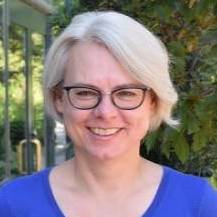 Professor Gerstenberger discusses her work-in-progress Disturbed Places and Troubled Times: Narrating Bikini Atoll, Chernobyl, Fukushima.
[It's] about literary, filmic, and artistic responses to three distinct nuclear catastrophes—Bikini Atoll, Chernobyl, and Fukushima. Each of these names stands for momentous post-World War II atomic events that have shaped attitudes toward the different uses of nuclear energy in the wake of Hiroshima. Focusing on artists' engagement with the impacts of radiation on local communities and across the globe, my study draws attention to the importance of creative approaches for coping with the consequences of nuclear contamination. As such, it contributes to the growing body of work that addresses environmental change, explores experiences of loss resulting from these changes, and validates the labor of mourning what is no longer there. It also emphasizes the power of the imagination in confronting irreversible outcomes. Works of art do not offer solutions to environmental problems. But in grappling with such questions, they invite us to envision ways of responding to these challenges.
Dr. Gerstenberger will present a public research talk while she is a Tanner Humanities Fellow during Fall 2021.
Research Professorship Benefits:
One course-release per year
Annual research funding of $1,500
Engagement with the intellectual life of the EH community
An opportunity to celebrate your research at the end of your term
The EH Research Professor is supported by generous funding from the Kendeda Fund. All faculty members from the College of Humanities who wish to pursue environmental research from humanities perspectives are encouraged to apply. Our next application round will begin Sept. 2022.
Previous recipients:
Carlos Gray Santana, PHIL (2017-19)
Benjamin Cohen, HIST (2015-17)