Practitioner-in-Residence Program
The Community Practitioner-in-Residence program is a semester-long residency for community leaders looking to use the tools of humanities and culture to further environmental and climate justice.
Please welcome our Spring '22 Practitioner-in-Residence, Alastair Lee Bitsóí.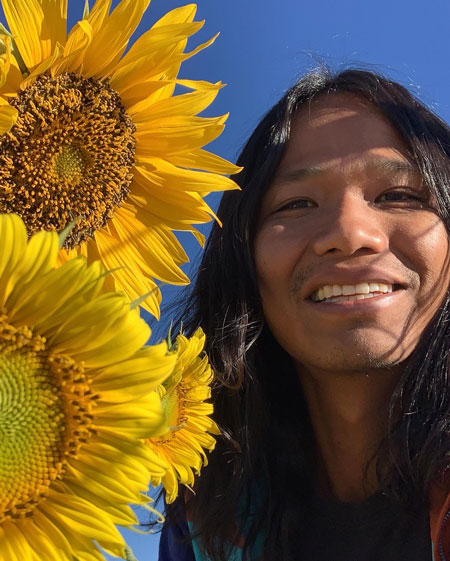 Alastair is from the Navajo Nation community of Naschitti, below the Chooshgai Mountains on the New Mexico–Arizona state line. He is currently the Southern Utah reporter for the Salt Lake Tribune. He has been an award-winning news reporter for the Navajo Times and communications director for the Indigenous-led land conservation nonprofit Utah Diné Bikéyah. His consulting business, Near the Water Communications and Media Group, trains media, nonprofits, businesses, and governments in cultural sensitivity. He recently co-edited the anthology New World Coming: Frontline Voices on Pandemics, Uprisings, and Climate Crisis. He was a 2021 Public Voices Fellow on the Climate Crisis and has a master's degree in public health from New York University.
Alastair has held various roles in the environmental justice field--advocate, communications director, journalist. He splits his time between Utah and his family's land in the Navajo Nation where he works to revitalize Indigenous foodways. We think his diversity of professional and lived experiences will be a huge resource to our students. Learn more about him on our blog.
---
Thanks to a generous grant from the Andrew W. Mellon Foundation, Environmental Humanities invites a practitioner-in-residence to the University each semester through 2023.
The residency program aims to forge reciprocal relationships between community practitioners and the Environmental Humanities Program. Benefits include a $25,000 award, access to University libraries and faculty, and potential sustained collaboration with passionate Environmental Humanities students. Practitioners should live in Utah, preferably Salt Lake or the greater Wasatch Front.
Expectations of the Practitioner
Develop a project of personal and community interest that furthers their work for environmental and climate justice using humanities tools, such as storytelling, art, public history, culture, creative writing, communication, language, and ethics
Develop a public presentation to be given at one campus-based location and one community-based location
Advise Environmental Humanities students on their master's project, community engaged learning, activism, and job opportunities
Hold regular office hours (4-6 hours/week) for student mentorship
Bridge the gap between the academy and community
Attend lunches and talks organized by the Environmental Humanities Program
Coordinate community engagement opportunities for students, such as field visits or volunteering with a community group
Braidan Weeks, Fall '21 Community Practitioner-in-Residence.

Braidan Weeks was born and raised in rural Utah. He is Yampah'tkah or White River Band Ute. Currently, he serves as the Executive Director of the Ute Land Trust. In this position, he works to preserve ancestral Ute land and place-based cultural knowledge. The trust's work reconnects the people of these lands by engaging with other Tribes, federal, state, and local governments to partner in land stewardship and traditional conservation efforts. Braidan believes in a holistic and community-driven approach to environmental advocacy and racial justice. There cannot be one without the other. In response to President Trump's repeal of the Bears Ears National Monument, he helped organize the largest rally for public lands in Utah's history.
Braidan also serves as a board member with Equality Utah PAC and the Natural History Museum of Utah's Native Advisory Board. On KRCL 90.9fm, Braidan hosts Living the Circle of Life, a music and news program dedicated to the Indigenous peoples of Utah.
Braidan says, "I'm hoping that my time with the University of Utah's Environmental Humanities Program will help build relationships and understandings between cultures and generations. Nuhnahmuh."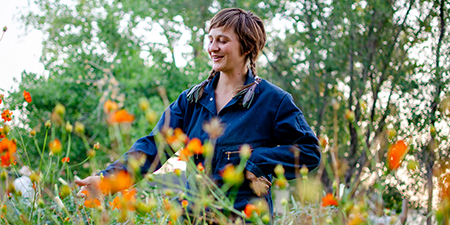 Rikki Nadkarni-Longino, Spring 2021 Community Practitioner-in-Residence
Our biggest welcome to Rikki Nadkarni-Longino, the first Environmental Humanities Community Practitioner-in-Residence. Rikki (they/them) is the founder of Mobile Moon Coop and garden coordinator at the Salt Lake Public Library. They have been a community gardener and organizer in Salt Lake since 2013, working in various capacities to feed the people, the soil and living culture of this bioregion.
"As the Environmental Humanities Practitioner-in-Residence, I envision a process of connection, organization, action and reflection. Each student will have the opportunity to develop their own unique process related to food sovereignty and community resilience. Using this region's interconnected network of resources and organizations, I will guide them to be agents of ecological and social remediation. At the end of the semester, the collective efforts of the cohort will be compiled into a multimedia zine (non-commercial magazine) and submitted for publication."
The Community Practitioner-in-Residence Program is a semester-long residency for community leaders who use the tools of humanities and culture to further environmental and climate justice and aims to forge reciprocal relationships between community practitioners and the Environmental Humanities Program. Rikki's residency will occur for the duration of the Spring '21 semester.