Community Engagement Spotlight: Anne Whitehouse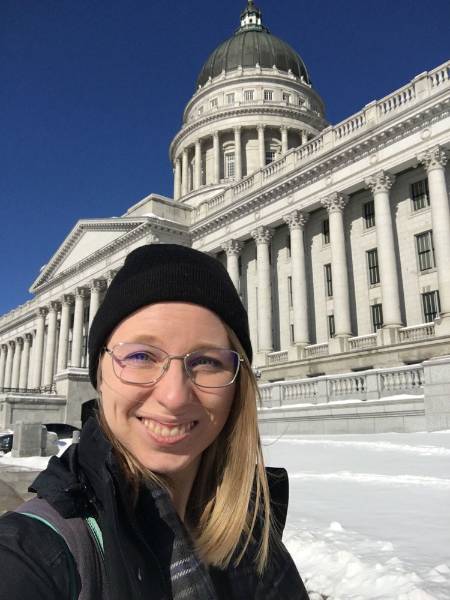 Anne Whitehouse is a recent graduate of the Environmental Humanities Graduate Program (December 2021). Through creative non-fiction writing, Anne hopes to reconnect urban audiences with the natural spaces and ecosystems right in their backyards, so to speak, challenging the notion that "going into nature" means driving far away from "civilization". For her thesis, Anne explored the relationships between women and urban waterways under colonial rule in Pak T'ae-won's 1938 novel Scenes from Ch'ŏnggye Stream. She also was an intern for Seven Canyons Trust, a local nonprofit dedicated to daylighting and restoring the impaired waterways of the Salt Lake Valley. Anne hopes to continue synthesizing urban water issues with scholarship on Korean literature, history, and culture as she pursues a second MA in Asian Studies (Korea Focus).
As the Fall '21 semester came to a close, I talked with Anne about her internship with Seven Canyons Trust and her interests in urban waterways and the nature-culture divide.
Brooke: What did your internship with Seven Canyons Trust involve?
Anne: I was working on a lot of different things. I was the point intern for the Folsom Corridor project, which is a plan to daylight a portion of City Creek in the Poplar Grove neighborhood. I was mostly workshopping a request for proposals with Brian Tonetti, the director of Seven Canyons Trust, and a representative from the Redevelopment Agency of Salt Lake City. So I got experience working with more official, technical documents, which I'd never done before. That was interesting and frustrating in parts because you're working with the local government where things are a little slow. I was also involved with the Seven Greenways Vision Plan, which is like a master visioning document they're hoping to create that sources feedback from stakeholders and residents throughout the valley on what they want each of the seven creeks to look like in the long term. Mostly, I showed up during the summer to set up tables at different parks around Salt Lake City. We would ask people about ideas they had for things to change along the different greenways. We would put stickers on the map to mark their ideas. It was fun to talk to people in the community. I also wrote a couple of blog pieces for the Seven Canyons Trust website. One was an investigation of a stream daylighting project in Oregon. I did a little bit of research on the history and logistics of that and wrote a short piece. I also wrote about an art installation at the newly opened Three Creeks Confluence in South Salt Lake and another piece with a construction update for the Folsom Trail.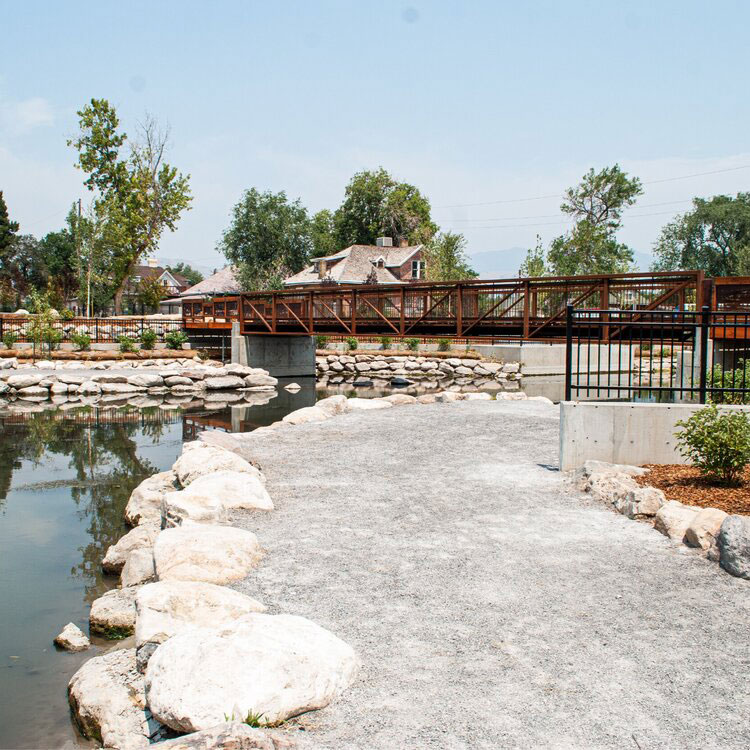 Brooke: You defended your thesis last month, congratulations! Your thesis also explored water. What sparked your interest in water issues? What overlaps exist between your work with Seven Canyons Trust and your academic research?
Anne: For my thesis in EH, I wrote about Ch'ŏnggye Stream in Seoul, South Korea. I was focusing on a novel written about the stream and its human denizens in the 1930s. But I'm more broadly interested in urban waterways throughout the world and the different roles that they can play in people's lives, the different kinds of relationships people can have with urban waterways. I absolutely think that the work with Seven Canyons Trust is along those same lines, like how do we reimagine the relationship between urban waterways and the people who live in cities? I think that's important work. The environmental humanities has done a lot to debunk the nature-culture divide myth, but I think, popularly, this idea is still pretty prevalent in American thinking. There's this idea like, oh, I live in a city, to go see nature I have to drive into the mountains, which just isn't true! Growing up, I lived right next to a river, and being next to the river and walking along it almost every day with my family, whether it was to go to the library or just look at birds, was an important part of our lives. That was the way we bonded as a family and the way that we connected to our community, both the environment and people. So, I'm interested in seeing how those relationships in other city locations can also change to benefit both the wildlife and the people living there.
Brooke: During your time at Seven Canyons Trust, what were some of the moments when you witnessed community being built around water? What challenges to bridging the nature-culture divide did you experience?
Anne: One of the most exciting moments was when Seven Canyons Trust hosted an opening celebration for the Three Creeks Confluence Park in South Salt Lake. I was running a table, and there were so many people who came to that event and came by our table. So many members of the community are deeply invested in their neighborhoods, in the natural spaces around their neighborhoods, and how that intersects with their lives and the lives of their friends and neighbors. That was inspiring, to see the number of people who cared. It's easy sometimes to think that nobody cares about these issues, because it can feel like you're pushing back against so many other forces and dominant narratives that tell us that nature and culture are separate or that living with nature is somehow backwards. I think the main challenge involves the nonprofit being young, the organization hasn't been around for very many years, and they're a bit short staffed. They can't quite tackle all the dimensions of community that I think that they would like to. So, I'd love to see Seven Canyons Trust and organizations like that have the ability to integrate themselves more into the community and the places that they're hoping to transform, because I think it's really hard to do environmental restoration work if you can't thoroughly consider how human communities will be impacted by that work, especially in urban areas.
Brooke: What did you learn in the Environmental Humanities Program that can further these conversations around the nature-culture divide?
Anne: My studies in the Environmental Humanities Program was a consistent reinforcement that environmental issues intersect with issues of class, issues of race, issues of income inequality, and all sorts of other social issues. It's almost unethical to consider environmental issues without also considering other issues because they're so intertwined. You can find this emphasis on intersectionality in almost all recent environmental literature. So, I think that idea is at the forefront, the importance of not just restoring environments, but making human communities part of the restoration process.
Brooke: You have also been engaged in other water issues in the state, such as the Jordan River and Utah Lake. What are the big issues there?
Anne: I do hesitate to speak for water issues in Utah at large, because I feel like I've only scratched the surface in many ways. I've done some writing and research about the Jordan River, which has a long history of pollution. This goes for Utah Lake as well, which is the source of the Jordan River. To use an environmental humanities term, both bodies of water have seen a wastelanding effect. As development happened along the Wasatch Front, the river and lake became really polluted and attention was diverted away from the lake and instead towards the mountains. I know in Utah County, specifically, if you go back several decades, a lot of recreation focus was on Utah Lake. But after it became polluted, officials tried to shift recreation from the lake to the mountains. It feels like even today the Jordan River and Utah Lake are still seen from that perspective. People still see them as polluted and dangerous. They're places that a lot people avoid thinking about or visiting. This isn't necessarily true of all people; many people enjoy canoeing or kayaking on the Jordan River, and many use the Jordan River Parkway Trail, which is a fantastic development. But I still think there's a long way to go in changing perceptions about the Jordan River.
When I was researching about the Jordan River, I went to a subcommittee session of the Utah State Legislature. The Mayor of West Jordan and a couple of other people had an idea for a project on the Jordan River, including ecological restoration and an educational space for people to interact with the river. They were seeking funding from the legislature. When they pitched their project, they received dismissive comments in return. I remember one of the legislators said, 'Well, I don't see any tires in the river anymore. So, it must mean it's all clean now, right?' Other legislators laughed at that. I think that's really telling, that spaces like the Jordan River and Utah Lake are dismissed, as they're still wastelanded even as pollution is being cleaned up.
For Utah Lake, specifically, it's still a new issue to me. There's a bid for a private company to purchase part of the lakebed of Utah Lake and to essentially do real estate development on the lake, which is wild to me. The development would also involve highways crossing the lake. I'm down here in Utah Valley, and some professors at Brigham Young University and Utah Valley University, as well as the Utah Valley Earth Forum, the Timpanogos Nation, and others are rallying together an effort called Don't Pave Utah Lake to try to stop this. The company who wants to purchase these rights is casting this development as ecological restoration, but it clearly is not. It doesn't take too long to look at their plans and realize that there's not any ecological restoration going on at all. Their development would probably worsen some of the already existing issues with Utah Lake ecology. During my time living in Utah, I've spent a lot of memorable moments along the shores of Utah Lake. I have so many memories with friends and loved ones that are associated with Utah Lake, so I've grown attached to it. I don't think the development is in anyone's best interest except for the company.
Brooke: Why is community engagement an important part of the EH experience?
Anne: If I'm doing scholarship related to the environment, I want it to have an impact in the real world. That's something that's inherent to the environmental humanities; it is grounded in real world happenings in real environments. I think every environmental humanities scholar would want their work to have a positive impact on the environments that they're writing about. Between the desire for my research to have an impact and realizing that academia is a very competitive and limited job prospect, I value opportunities like the internship with Seven Canyons Trust to explore other ways I can use my training to have the kind of effect I hope to see in the environments I care about. I think that that's one of the valuable things about this program--it encourages us to go out into the community and get involved, even if it's not necessarily directly tied to our research. Community engagement really matters, even if it's not what you end up doing in the long term. I'm still trying to figure out how to balance that with my academic career. Sometimes it's hard to figure out how to balance involvement in local environmental issues with research and writing papers. I admire my peers who seem to meld those together seamlessly. But for me, especially with my research being focused on Korea, it's harder to be both locally engaged and internationally conscious. But I'm doing my best because I think these issues really matter.