Community Engagement Spotlight: Jenna Fischer
Interviewed by Brooke Larsen, EH Community Engagement Coordinator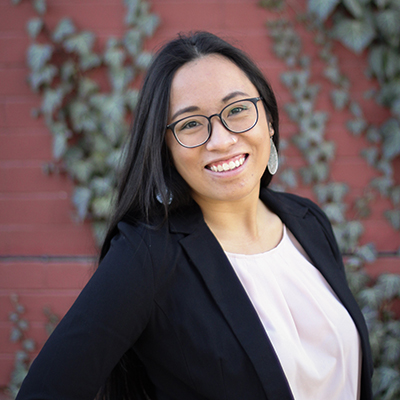 Jenna Fischer is a first-year student in the Environmental Humanities Graduate Program. She is currently interning with the National Parks Conservation Association (NPCA), researching and conducting outreach on issues of diversity, equity, and inclusion in national park visitation management plans. In February, 2021, Brooke talked with Jenna about her internship and the personal experiences that led to Jenna's current interests in outdoor recreation and social justice.
Brooke: What are your research and community engagement interests?
Jenna: My background is in communications. I got my undergraduate degree from Colorado State University in communication studies with minors in Spanish and international development. But I really wanted to focus more specifically on environmental issues at the intersections of sustainability, social justice, and outdoor recreation. So that's where I'm hoping to focus my thesis research in the Environmental Humanities Program. Specifically, I'm hoping to do a project either related to long-distance hiking trails or national parks.
Brooke: What work are you currently doing with the NPCA?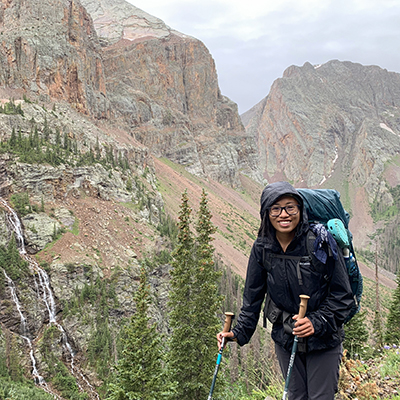 Jenna: My official title, which is a mouthful, is the Equity and Inclusion in Visitation Management Project Intern. What that basically entails is that a lot of the national parks in the US, and specifically in the southwest region, which is the regional office that I'm working for, are experiencing high rates of visitation and those rates are increasing every year. Even with COVID, we've seen a lot of traffic. So NPCA is looking into various active visitation management strategies that could help the National Park Service address this issue. That might look like reservation systems, fee structures, transportation systems, or messaging and policy changes. So my role specifically, within that larger goal, is to look at how those active management strategies might have impacts on equity, diversity, and inclusion and how those strategies might have adverse effects for certain communities or demographics.
Brooke: How would you say that work you're doing with NPCA intersects with your research and coursework in the EH program?
Jenna: There's been so many great tie-ins to my coursework. A lot of the work we did in Brett's Foundations of Environmental Humanities class last semester was about social justice. It was about environmental justice and looking at which folks are left out, whose voices are being heard, whose are being silenced. This semester, I'm taking a sustainable tourism and protected area management class with the Parks, Recreation, and Tourism department. So there's a ton of really pertinent information that's crossing over with the internship. It's been great to explore these different concepts that I've been learning about in class in an applied way that will be put toward actual policy changes or messaging, something that's going to have an impact in the real world of this field.
Brooke: Why is community engagement or public engagement important to you? What have you learned while exploring these academic interests in a non-academic setting?
Jenna: On a personal level, it's been really useful to get experience in a more professional setting. I sit in on some of the organization's meetings. There's folks who are Zooming in from all around the country, some folks who are in DC right now doing work related to appointment changes with the new Biden-Harris administration and the new Secretary of the Interior. Lots of really interesting things are happening right now. They're looking at the reinstatement of Bears Ears National Monument and Grand Staircase-Escalante. So I'm working on and learning about all of these things that are happening in real time that are impacting real people and have real consequences. Being able to be a part of that, in some small way, has been really rewarding. Previously all of my work has almost felt like just thought experiments. I write a paper and, you know, it gets submitted, I get a grade, and then nothing happens after that. So being involved with these issues has been interesting and cool to see what I can do beyond the scope of academia. This internship is getting me really excited for my future career.
Brooke: What led you to pursue this field at the intersection of outdoor recreation and social justice?
Jenna: All throughout undergrad, I worked for the Rec Center at Colorado State in their marketing department. My boss at that job was really invested in equity, diversity, and inclusion issues, and she made sure that was a part of our job experience. I think that kind of sent me on this track. After I graduated from undergrad, I decided to do a thru hike of the Colorado Trail, which is almost 500 miles through Colorado's backcountry. You start in Denver, and you end up in Durango. You go through some of the most incredible Colorado wilderness areas, mountain passes, just like everything you could want out of a gorgeous backpacking trip. It took me about a month. It really solidified my existing passion and love for outdoor spaces in the southwest, and it solidified what I wanted to do with my career.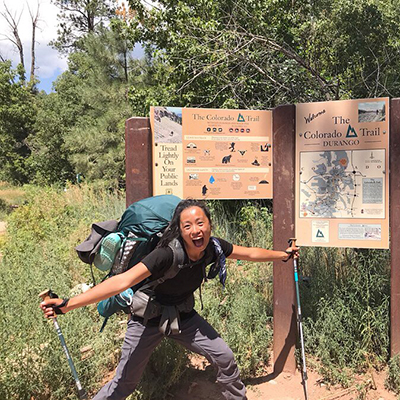 I did this trail alone as well. So as a young, Asian-American female hiking solo, it was a really empowering experience, but also eye opening in a lot of ways. I think recently, especially with a lot of the movements this past summer, the outdoor recreation industry's eyes have been opening more to issues of representation and inclusion in outdoor spaces in terms of race and other demographics. I think my positionality did influence my thru-hike experience and my understanding of what that meant for me, as well as for the larger movement as a whole. So that's why I think approaching issues of sustainability and outdoor recreation through a justice lens is so important. It's important for me personally, as well as on a broader scale.
Brooke: Is there anything else you want to share?
Jenna: The really great thing about this program is that I am able to tailor my academicexperience as well as my experience with community engagement in my internship to my specific interests and area of study. I know there's other folks in this program who have completely different interests and trajectories. And that's so awesome. I love that for all of us, that we can take this kind of broad interdisciplinary program and really make it our own and make it what we're passionate about.