Mellon Community Fellows Presentation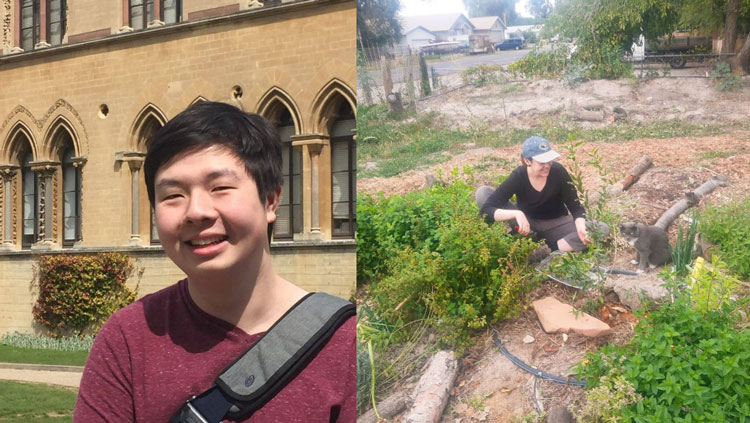 Join the Environmental Humanities Graduate Program for a presentation from the second-year Mellon Community Fellows, Doug Sam and Riley Sayers. The fellows will discuss their local community partnerships and the ways they use humanities tools to further environmental justice. The Mellon Community Fellowship in the EH Program is funded by the Andrew W. Mellon Foundation. Fellows form reciprocal partnerships with a community organization and develop a project that addresses local environmental justice issues.
Event Details:
Thursday, November 11, 2021 | 4-5 p.m. | Watch Recording
Doug Sam's Talk Description:
Doug's talk focuses on the importance of decolonizing environmental education in the West and the challenges of building relationships between Tribal nations and community organizations.
Linda Smith writes that "history is not important for [I]ndigenous peoples because a thousand accounts of the 'truth' will not alter the 'fact' that [I]ndigenous peoples are still marginal and do not possess the power to transform history into justice." This sets up a dilemma for historians: how can non-Native scholar-allies transform their work into something that matters to Native people themselves? Doug Sam contends that leveraging history allows community organizations to find fruitful partnerships with Tribal nations to conduct decolonizing work. He highlights particular challenges in his own work with the Summit Land Conservancy and the opportunities in continuing this work.
Riley Sayers's Talk Description:
Abolition and Community Sovereignty Work - Partnering with the Mobile Moon Co-op, Decarcerate Utah, and the Salt Lake Community Bail Fund
For my fellowship here in so-called Salt Lake City, Utah on the unceded ancestral territory of the Shoshone, Paiute, Goshute, and Ute peoples, I am continuing to organize for abolition. I am partnered with the Mobile Moon Co-op, a collective of femme and queer folks working to support communities and ecosystems through education, empowerment, and botanical stewardship. As a core member, I curate herbal and medicinal products, organize sustainable administrative systems, apply for grants and markets, edit and writing for our quarterly zine, and I contribute to educational programming. I also organize with Decarcerate Utah, an abolitionist collective that includes the Salt Lake Community Bail Fund. Decarcerate Utah especially focuses on education and empowerment for abolition and community resiliency, and the Bail Fund provides mutual aid in the form of freeing our neighbors and sharing resources.
Direct questions to Brooke Larsen, Community Engagement Coordinator: j.brooke.larsen@utah.edu.