Community Engagement Spotlight: Natalie Slater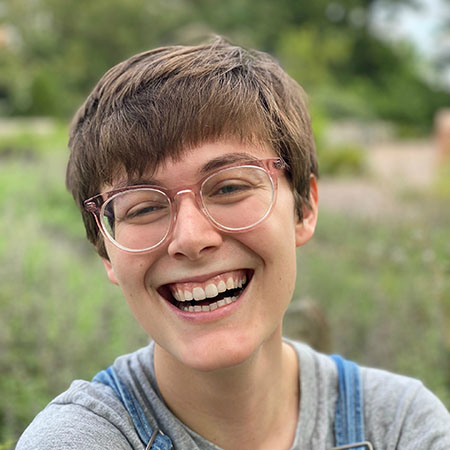 Update 11/10: Check out the Embodied Ecologies exhibit in Digital Matters (Marriott Library, 2751) Nov 14-28. Reception with Natalie and artists will take place in the same venue on Nov 17, 12 pm-2 pm. Details here. Also, read this excellent article on the project in SLUG Mag!
Natalie Slater is a second year student and Mellon Community Fellow in the Environmental Humanities Program. For her fellowship, she partnered with Art Access to create and facilitate the Embodied Ecologies Working Group for artists interested in the intersections of disability, health, and the environment. Representing a singular idea through multiple mediums, this project foregrounds accessible communication across various abilities, with the larger goal of sparking change-making conversations within the Salt Lake community around environmental justice and disability justice. Natalie grew up in Washington, D.C. and is a graduate of Pomona College. Natalie also loves bikes and is passionate about increasing equity and accessibility in the cycling world.
In July 2022, I talked with Natalie about art, disability justice, environmental health, bikes, and how she's combining all those interests into her community engagement efforts and academic research. Read on to learn more!
Brooke: Tell us about the Embodied Ecologies Project.
Natalie: The Embodied Ecologies project stems from a collaboration between the University of Utah Environmental Humanities program and Art Access, a nonprofit focused on increasing creative opportunities for disabled artists in Salt Lake City. Last fall, I began working with Art Access' Executive Director, Gabriella Huggins, to design a program that would fulfill Art Access' mission while also meeting the environmental justice and humanities goals of the EH Mellon grant. We landed on the idea of a collaborative group for artists interested in making work that explores the intersection of disability, health, and the environment in Salt Lake City. We spent the next few months designing the program before putting out a call for artists. I was blown away by the number of inquiries and applications we received. Based on the program's budget, we ended up selecting five artists for the working group and seven additional artists to participate in our final gallery show.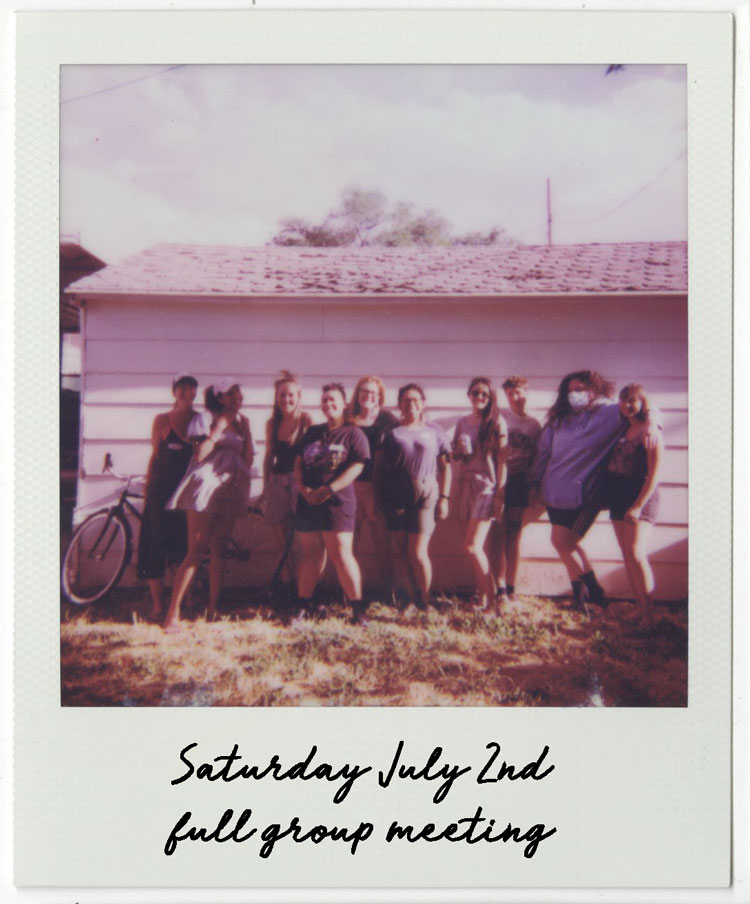 Since March, I've gathered with the five working group artists bi-weekly via Zoom or in person at the George S. and Dolores Doré Eccles Wildlife Education Center in Farmington to collaborate on the project and installation. This summer, we've started bringing the seven contributing artists into the fold, including holding three full-group meetings. I'm thrilled about the way the project is shaking out. It's been a pleasure working with each of the artists, all of whom come from different backgrounds in terms of their artistic medium, lived experiences, and relationship to environmental health and disability. Exploring moments of overlap and variance in people's interpretations of the themes has really pushed me to think about disability and the environment in more nuanced ways. I have no doubt that this complexity will also make for an interesting experience in the gallery!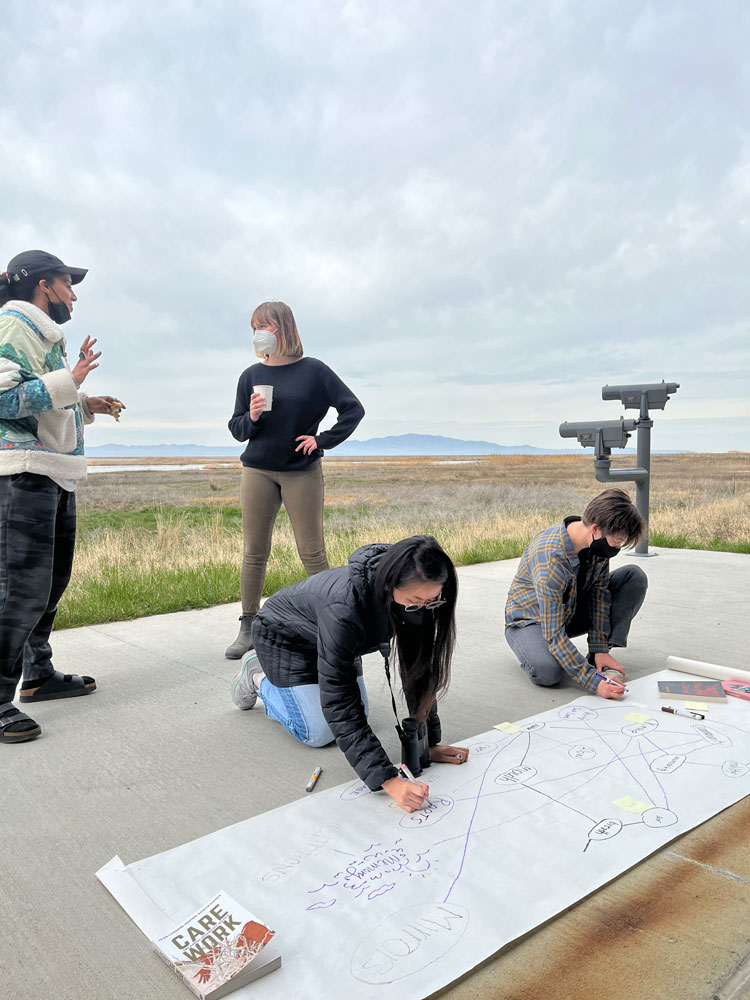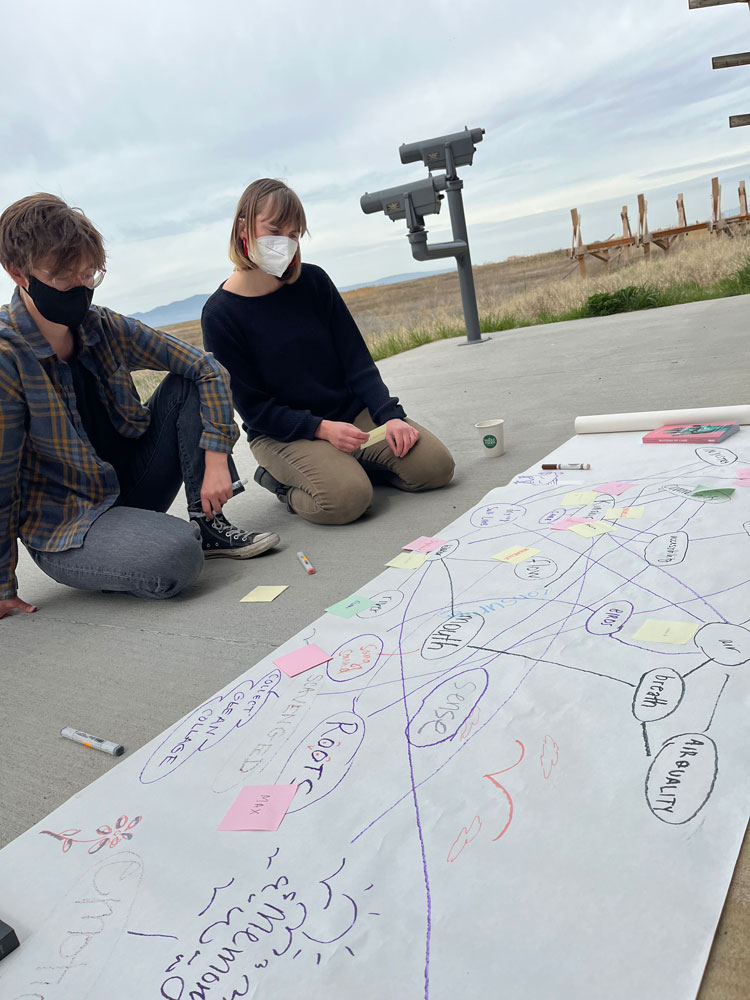 Brooke: How did you choose to focus your project on the intersections of disability justice and environmental justice? Why did you choose art as the modality to explore these issues?
Natalie: Bringing together these three components—the environment, art, and disability—made a lot of sense to me in terms of the theoretical backing as well as my personal experience as someone who cares deeply about environmental justice, is an artist and filmmaker, and experiences ongoing back and spinal difficulties.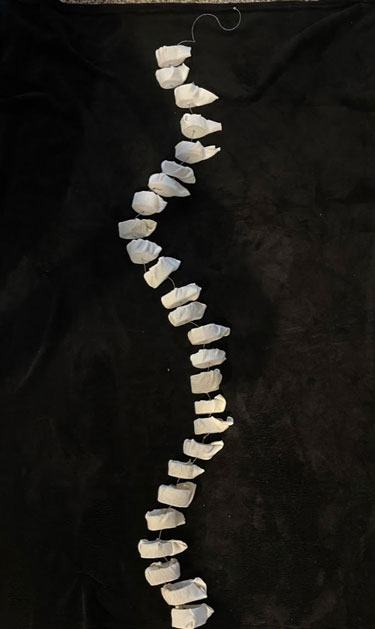 Art by Stephanie Choi, working group member.
I came into EH hoping to focus on disability and the environment, which I think is an important and often-overlooked intersection and experience. Despite the fact that disabled communities are more vulnerable to the impacts of climate change, this community is rarely considered when it comes to policy decisions, particularly as related to climate adaptation. There's also a rich tradition of disabled communities resisting systems that were not built for them and figuring out collaborative and community-oriented methods of survival. So in addition to the political imperative of including high-risk groups in climate conversations, I believe taking a disability lens to environmental advocacy can help guide us towards resilience practices based in solidarity and care.

This also feels like an important intersection to focus on here in Salt Lake City where environmental health is such a huge issue. The drying of the Great Salt Lake, for example, has immense implications for people's health, and is already exacerbating challenges related to our poor air quality and the Covid-19 pandemic.
And then in terms of the art and communication aspects of the project, I'm interested in the power of art as it relates to both environmental and disability justice. It's been really exciting to place these two strains of political expression—climate communication and disability art—in conversation throughout this project.
Brooke: What are the major themes that the Embodied Ecologies group is exploring?
Natalie: Early on in the project, the working group went through a collaborative process to identify three guiding themes for the installation. We landed on water, kinship, and weaving. In terms of water, the Great Salt Lake has been really present throughout the project. We talk a lot about what it will mean for the lake to continue drying, in relation to ideas such as home, safety, and purity. Our focus on kinship has prompted us to consider the ways in which people and landscapes are deeply entangled. This includes the emotional dynamics of environmental and health issues as well as the role that water plays beyond a resource, as something that can be deeply important on personal and cultural levels.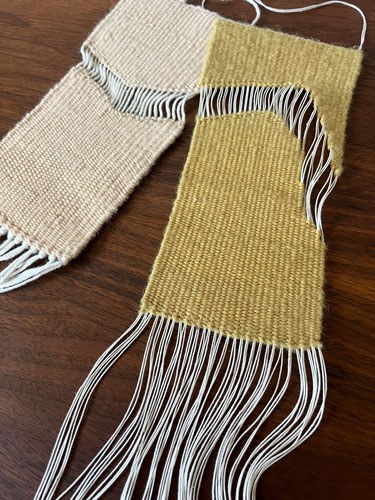 In terms of weaving and kinship, we've also been trying to emphasize the collaborative aspects of the working group. Creating art focused on health and climate has been empowering and beautiful but is also emotionally intense. Throughout the project, we've also had people–including myself–encounter a variety of life and health challenges. I'm really grateful that we were able to cultivate a space where people feel safe supporting each other personally and creatively.
Brooke: What will the art installation entail?
Natalie: The project will culminate in two installations this fall, and feature work in a wide variety of mediums, including sculpture, painting, poetry, textiles, and mixed media. Both shows will also feature a short documentary I'm producing in collaboration with the artists and local filmmaker Stan Clawson. We're hoping to emphasize accessible communication and curation, so the installation will also include alt-text, audio-visual guides, and tactile elements when possible.
The work will be on display in the fourth floor gallery of the main Salt Lake City Public Library from October 1st to November 11th before moving to the Digital Matters space in the Marriott Library from November 14th to November 28th. We'll have an opening reception at the SLCPL on Saturday, November 1st at 4 pm, and at Digital Matters on Thursday, November 17th at 1 pm.

Brooke: How is this project informing your research for your final creative project in the program?
Natalie: My final project for EH will draw extensively from my work with Art Access. In addition to organizing and facilitating the Embodied Ecologies group, over the past few months I've done a lot of note-taking and observation. I plan to interview all of the artists about their experience with the project, as well as their experiences with environmental health and disability in Salt Lake City more broadly. I'll put those elements together into a short documentary that conveys the process and the implications of this project, while also touching on the larger themes we're exploring. In addition to the film, I'll produce a written report placing the Embodied Ecologies project in conversation with academic work in critical disability studies, environmental humanities, and communication and media studies.
Brooke: How has this project helped you connect more with the people, land, and issues in Salt Lake City?
Natalie: This project has been indescribably helpful in terms of feeling settled in Salt Lake City. I'm really grateful that my graduate work is so deeply rooted in the community here. Working with people in my research also helps me stay motivated during a time filled with so much health-based, political, and environmental upheaval. Processing some of the changes that are occurring in Salt Lake City alongside the working group artists has helped validate the grief that I'm feeling as someone who's new to the region. I do feel very connected to this place and deeply sad about what's happening here.
I also ended up having a lot of trouble with my health last year, including back surgery and a pretty bad bout of Covid-19. I don't think I could have made it through the school year without the physical and emotional support of the working group. There have been many times in my life when my back problems have made me feel deeply alone and confused. Forming this community of people who not only have similar experiences and deep empathy, but also have similar moral, ethical, and political convictions has been one of the most powerful things I've ever experienced.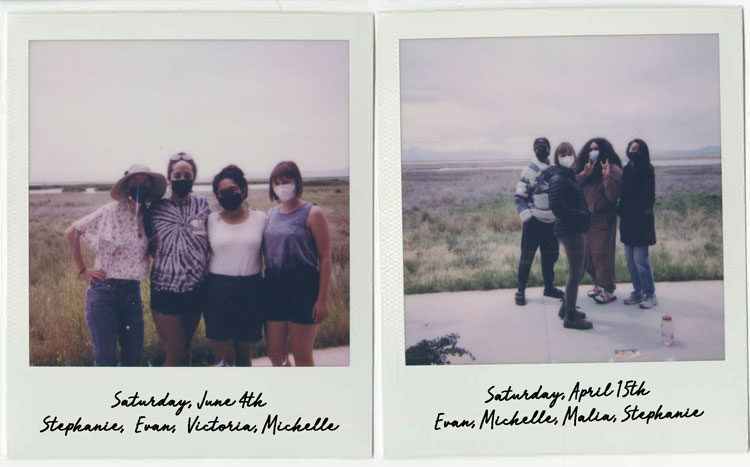 Brooke: You've also found community in local cycling groups, specifically the Salt Lake City Bicycle Collective and the Salt Lake chapter of Radical Adventure Riders. What drew you to this form of community engagement? What role do bikes have in building community?
Natalie: Before starting the Environmental Humanities Program, I worked at a community bike shop and youth education nonprofit called Phoenix Bikes for two years. During that time, my primary role was teaching middle and high schoolers bike mechanics, which I loved. I'm super passionate about helping people who might feel excluded from the dominant culture of the bike industry feel more welcome. Despite the important role bikes play as a mode of transportation, recreation, and protest, there's a lot of work left to be done in terms of making bike culture feel inclusive across gender, race, and class lines.

When I moved to Utah, I started working with the volunteer manager at the Salt Lake City Bicycle Collective to expand their gender equity programming. I've really enjoyed getting the chance to teach workshops on not only mechanics, but also other aspects of bike culture. For example, I just taught a workshop on the history of bike zines. Community bike shops, to me, are one of the rare things in this world that are purely good. I feel super lucky to continue working at a community bike shop here!
Soon after moving to Salt Lake I also got involved with a group called Radical Adventure Riders, or RAR. RAR's mission is to empower women, trans, and femme people, as well as BIPOC individuals, to get on bikes and form community around bikes. RAR is full of super thoughtful people who care about transportation justice, environmental justice, and urban planning. I started as one of RAR's core organizers last fall, when I was actually in the middle of one of the worst flares of back pain I've ever experienced. Having this community was incredibly helpful during a time when I wasn't sure if I would ever get back on a bike. It was devastating to face the possibility of never biking again, but because I was part of this kind and passionate group of people who understand bikes as so much more than recreational objects, I never felt like an outsider in the cycling community. My work with the bicycle collective and RAR has been so important to me in terms of feeling settled in Salt Lake City and making friends here. Bikes are a hugely important part of my life, and something I believe in deeply.
Brooke: Anything else you'd like to share?
Natalie: I'd just love to thank everyone that's helped make this project a reality. First off, I'm grateful to you, Brooke, for helping advise me with my Mellon work. I also want to thank my thesis committee, Danielle Endres, Chris Ingraham, and Angela Smith for their guidance and support. In terms of community partners, Gabriella Huggins, Max Barnewitz, and Stan Clawson at Art Access have all been instrumental to the project. It has been amazing to work with such a thoughtful nonprofit, as well as two awesome libraries and two awesome librarians, Camille Schubert at the Salt Lake Public Library and Rebekah Cummings from Digital Matters at the Marriott Library. To me, libraries are a bit like community bike shops in terms of their simple goodness. So I'm thrilled that we get to display our work in not only one but two libraries! This work would not be possible without generous financial support from the EH Mellon Grant, the Sustainable Campus Initiative Fund, and Art Access. And finally, I want to thank working group artists Evangaline Amadu, Stephanie Choi, Mālia Malae-Godinet, Victoria Meza, Michelle Wentling, as well as contributing artists Madeline Bavley, Chanté Burch, Bryn Burningham, Laurie Lawson, Erin Meager, Sylvia Ohara, and Kristen Vardanega. These artists are the core of the project, and I'm incredibly grateful to have gotten the chance to get to know them and help support their work.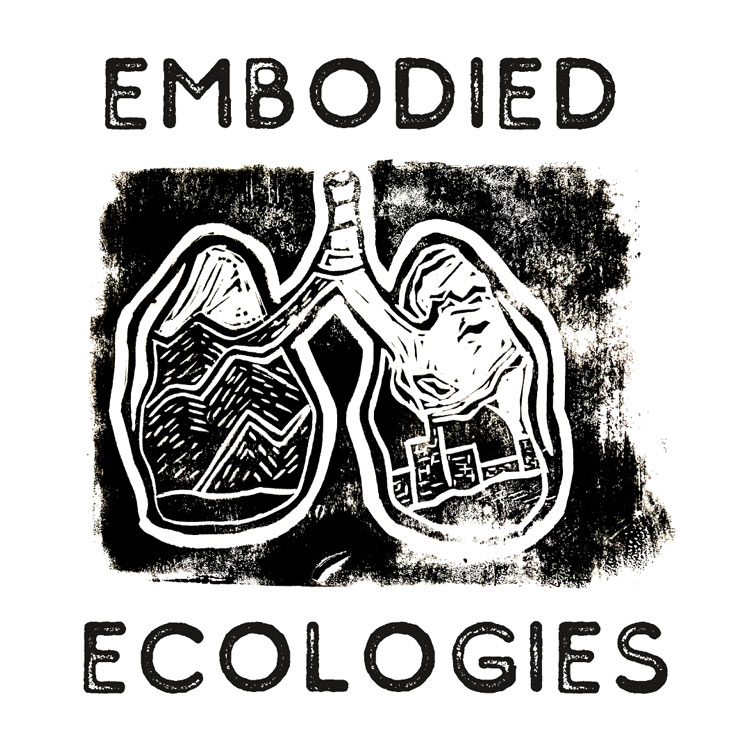 Dates for the Embodied Ecologies Installation
Salt Lake City Public Library (fourth floor gallery)
On Display: 10/1/22 - 11/11/22
Opening Reception: 10/1/22, 4 pm - 5:30 pm
Digital Matters Space of the Marriott Library
On Display: 11/14/22-11/28/22
Opening Reception: 11/17/22, 1 pm-2:30 pm