Community Engagement Spotlight: Fiona Summers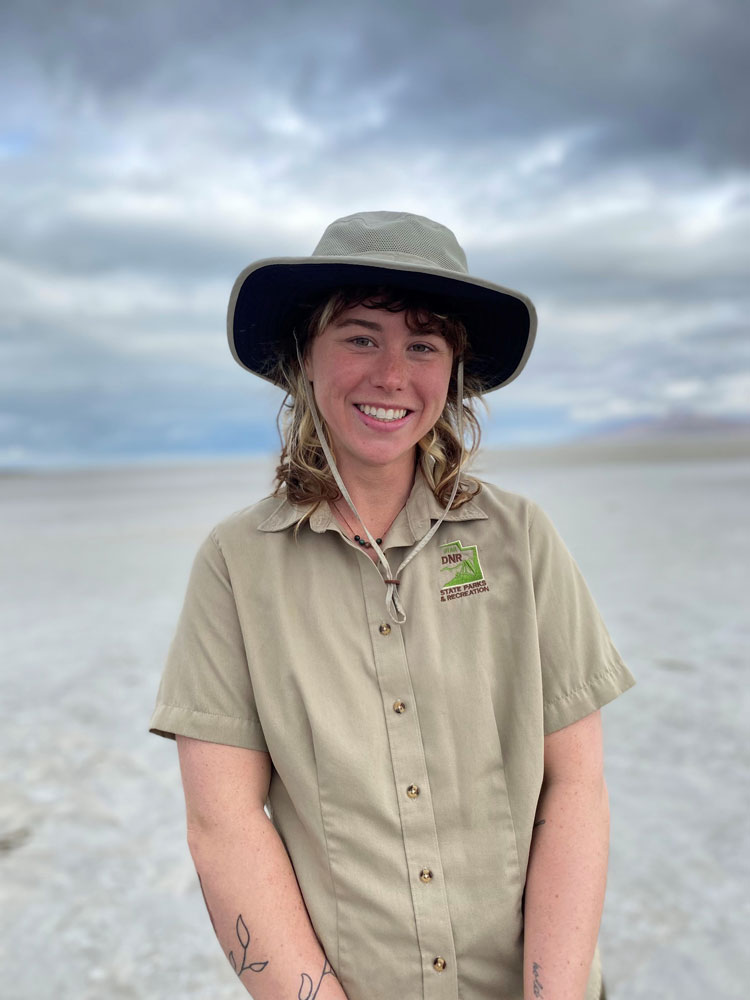 Fiona Summers is a second-year student in the Environmental Humanities Program. She recently helped organize our program's symposium on Great Salt Lake. Her work at the University of Utah explores the intersections of Conservation Management and Restoration, Indigenous Methodologies, and Education while working at Antelope Island State Park. Her thesis will deconstruct the colonial narratives woven into State Park programming and collaborate with the Northwestern Band of the Shoshone Nation to accurately depict the history of land acquisition, highlight their commitment to kinship beyond humans, and celebrate their long-standing relationship to the land. She believes centering the resilient voices and perspectives of Indigenous peoples are imperative to climate change adaptation.
Fiona spent many of her childhood years exploring her backyard in the suburbs of Chicago searching for bugs, climbing trees, and playing with her cousins. Transplanted to Michigan for undergrad at Kalamazoo College, her curiosity surrounding plant biology and land management flourished. Fiona found her niche in field work after working in several labs exploring biochemistry, dog behavior, plant genetics, and finally plant ecology. Her undergraduate thesis investigated the influence of abiotic and biotic factors on the presence of invasive plant species populations via GIS. Although she dreams of spending her days counting seeds, analyzing soil composition, and observing plant populations again, she believes changing the relationship humans have to the more -than-human world will have a larger impact on human adaptation to climate change.
Below are Fiona's typed responses to questions about her community engagement work at Great Salt Lake and Antelope Island in collaboration with the Northwestern Band of the Shoshone Nation.
You recently helped organize our symposium on Great Salt Lake. What are you most proud of? What successes are you celebrating?
I am celebrating the opportunity to hear from many tribal members in this community. The first day began with a discussion between four prominent tribal members - Corrina Bow, Chairwoman of the Paiute Indian Tribe of Utah; Forrest Cuch, Ute Indian Tribe, former Executive Director of the Utah Division of Indian Affairs; Darren Parry, Councilman, former Chairman of the Northwestern Band of the Shoshone Nation; Rupert Steele, Chairman of the Confederated Tribes of the Goshute. In the academic spaces I have been exposed to, I had never seen an entire panel made up of Indigenous people. It was transformative to see this kind of representation. Indigenous peoples have often been excluded from and invalidated in academic spaces. I'm proud that this event actively worked against these harmful norms. When helping plan the event, our main priority was to bring the voices and experiences that have been marginalized to the forefront.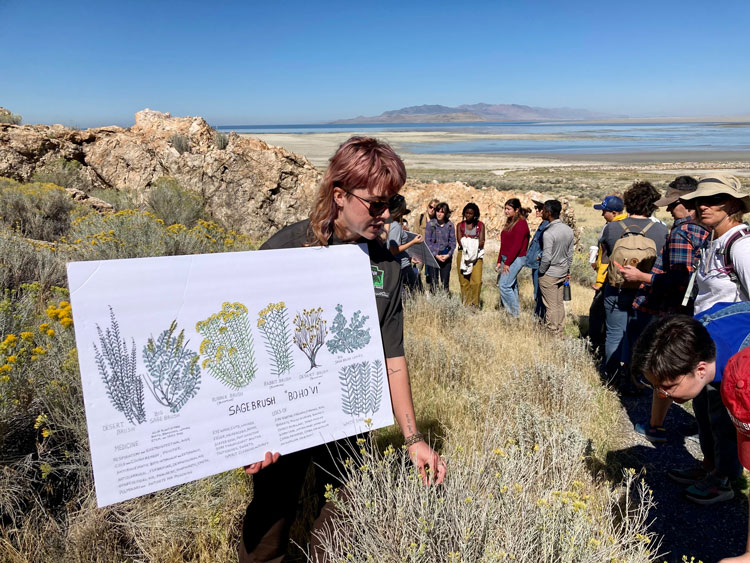 What initially sparked your interest in Great Salt Lake? What have you learned about this threatened place since you started engaging in the issue?
I came from the Great Lakes region; I lived my whole life on either side of Lake Michigan. As a child, I grew up swimming and kayaking around Chicago and continued these activities when I moved to Kalamazoo, Michigan for college. I am used to driving two miles in any direction to find a body of water to plunge into. When I came to Utah, I was struck by the lack of humidity and, more significantly, the lack of water. In September of last year, I went to a community clean-up around Great Salt Lake and I was startled by the dry lakebed. Water has always been an important part of my life and I couldn't imagine living in a place without access to a large body of water. So, I wanted to learn what I could to protect the lake as well as understand the implications if Great Salt Lake did disappear.
Most of my studies in the Environmental Humanities program have centered around the Great Salt Lake. In my classes and advocacy work, I have focused on the cultural, historical, and scientific intersections of this issue. One of the most important things that I am working on is looking at how historic redlining might disproportionately expose minority community members to higher concentrations of toxic dust from the dry lakebed. This is an issue I began investigating last semester in my GIS class and I am hoping to continue working on with HEAL Utah. Thankfully, organizations like the EPA and NASA are looking into air quality studies surrounding the dry lakebed, but it is unclear to what degree they will prioritize the disproportionate effect on minority groups in this research.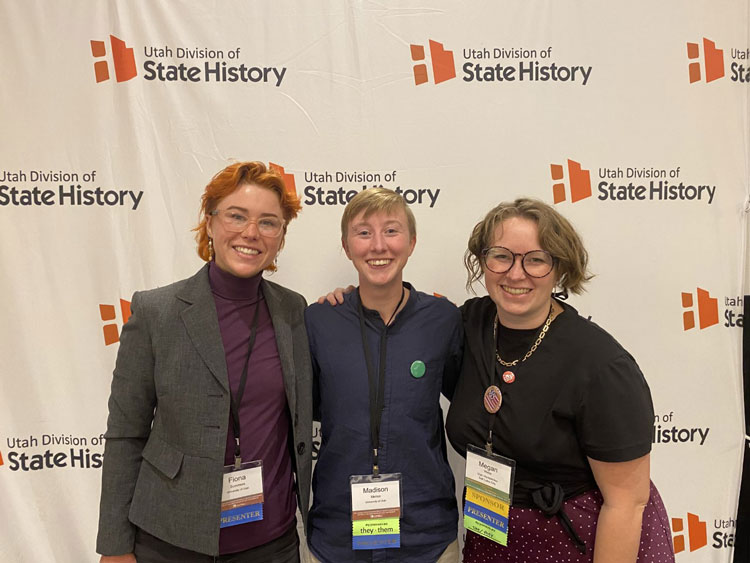 You have been working at Antelope Island State Park since the summer. What does your role involve? What drew you to work there?
At Antelope Island State Park, I am a seasonal ranger working within the Education and Interpretation department. Each month I write the newsletter about upcoming events, including an excerpt about an interesting animal or plant on the island, which has been one of my favorite responsibilities. Another great aspect of my job is taking students out on field trips to learn more about the flora and fauna in this unique landscape. Mostly, my work involves in communicating scientific ideas about the ecology of Antelope Island to children and visitors.
I grew up playing with the science materials in my mom's fourth grade classroom my whole life. She has always prioritized education, so it is no surprise that it is a deep passion of mine. When I went to college, I became very interested in science communication and education for youth. I believe if the youth understand complex scientific ideas, especially of the places they live in and have a connection to, then they will grow up to be civic-minded stewards to the land. I see my work at Antelope Island contributing to creating this connection to the land and developing a sense of responsibility to the wellbeing of it.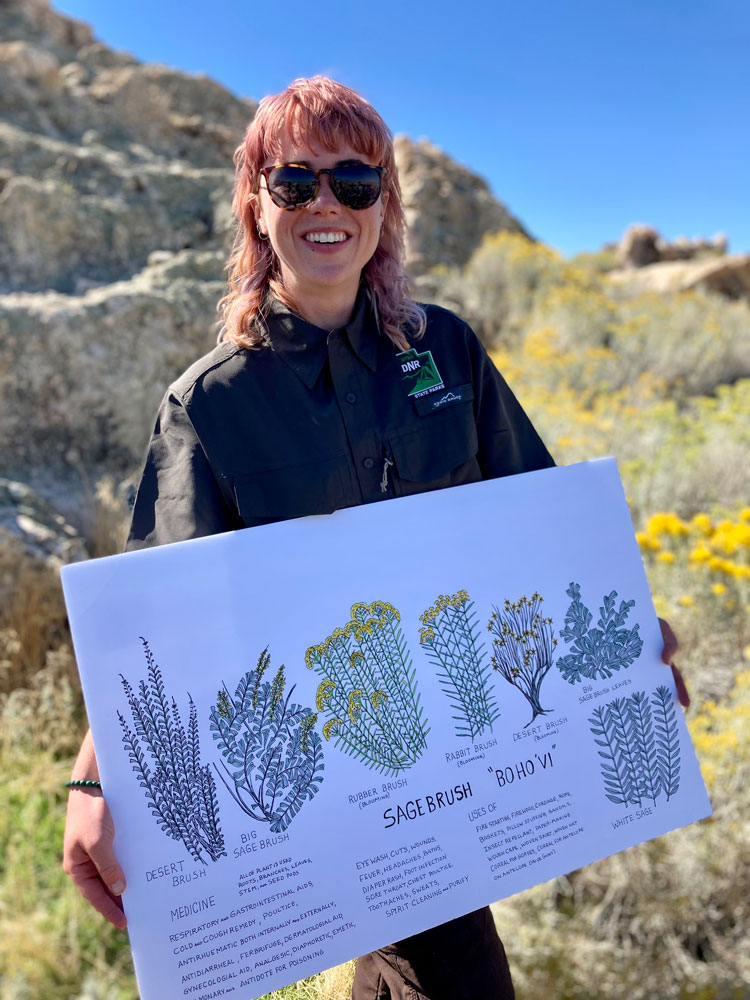 You're partnering with the Northwestern Band of the Shoshone Nation to update Antelope Island State Park's Junior Ranger Guidebook. What has this process entailed? What is exciting you? What challenges have you faced?
I am lucky to have formed this relationship with the Northwestern Band of the Shoshone Nation and I owe it to the people that I formerly and currently work with. Hannah Taub, an Environmental Humanities alum, was also a park ranger at Antelope Island and worked with the Northwestern Band of the Shoshone Nation (NWBSN). She was able to pass along the work she did at Antelope Island to me and help me get into contact with the tribal members of the NWBSN. Much of the process thus far has included evaluating the ethics of community engaged research by reading Indigenous scholars, listening to my community partners needs, and taking a class with Dr. Cynthia Benally about Indigenous Research Methodologies. It is imperative that this project benefits the NWBSN rather than extracts (data, time, knowledge) from them.
I am excited to see how the junior ranger booklet develops. Historically, in their programming state and national parks have erased or ignored the Indigenous human history of the land they're located on. The guidebook I am collaborating on will directly counter these narratives and uplift the culture and experiences of the Northwestern Band of the Shoshone Nation. I am excited because I have not come across another state or national park that has directly collaborated with an Indigenous community to contribute to this type of programming. Of course, this has not always been an easy endeavor. I am navigating how to meet the needs of my collaborators and the needs of my academic requirements, which at times conflict. Some things have been taking longer than expected but I keep coming back to the idea that building a strong relationship with the Northwestern Band of the Shoshone Nation cannot be rushed and is my top priority.
What advice do you have for students hoping to work with Tribes and/or other government entities such as a state park on their final project or thesis?
Firstly, it is important to state that I am a cis white settler woman and most of what I have learned about this process has been from Indigenous scholars and community members. Ultimately, these are the sources we should look to when answering this question. However, I am happy to share what has been significant to my project. Relationship building, transparency, humility, and reciprocity are the main values I aim to uphold in my work. Much of the research I have done in the past while working as a biologist has positioned me as an objective observer. Indigenous research methods urge you to be in relation to those who participate in research with you. As you build relationships with the people you are working with, you are less likely to design a research project that does harm to your collaborators. It is also important to be transparent with your collaborators. You need to admit when you cannot meet their needs or expectations so they can decide if it is still a good project for them to dedicate time to. Once a community has decided to share their knowledge and time with you, it is important to give back to them and reciprocate. Read as much as you can about Indigenous Research Methods and take the time to form relationships with the people you intend to work with. Finally, be patient.
Note: the poster Fiona is holding in the photos above was made by Rios Pacheco, a Shoshone and Kewa Pueblo artist and spiritual leader. You can buy his book, Shoshone Plants of Antelope Island, in the Antelope Island State Park Visitor Center.