A lecture by Katharina Gerstenberger, Environmental Humanities Research Professor (2019-2021)
Dr. Gerstenberger will present a research talk about the work she conducted during her tenure as the Environmental Humanities Research Professor between 2019-21.
The nuclear tests conducted at Bikini Atoll (Marshall Islands) by the U.S. beginning in 1946 - most significantly the hydrogen bomb explosion on March 1, 1954 - that exposed a group of Japanese fishermen to radiation, made the world aware of the dangers of radioactive fallout. Writers and filmmakers were among those who responded to the threat. Using examples from different countries, including Germany, the U.S., and the Marshall Islands, I trace the emergence of nuclear narratives that originated with the tests at Bikini Atoll. Awareness of fallout as a global threat came before attention to the effects of radiation on local populations and sites. As the global and the local are more closely connected than ever, artists reverse the perspective by turning their attention to those who suffer the consequences to this day.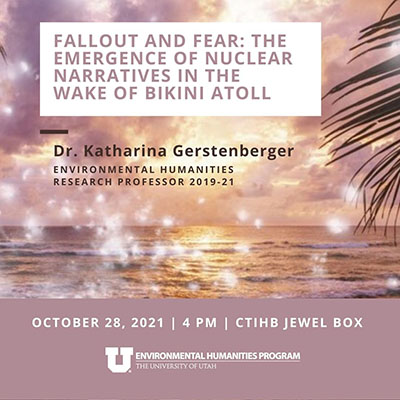 The Environmental Humanities Research Professorship offers one course-release per year, annual research funding of $1,500, engagement with the intellectual life of the EH community and an opportunity to celebrate research at the end of the term. The EH Research Professor is supported by generous funding from the Kendeda Fund. All faculty members from the College of Humanities who wish to pursue environmental research from humanities perspectives are encouraged to apply during our next round, Sept. 2022.